You can track your order as soon as it has been dispatched from us, using the consignment number that will be emailed to you on dispatch, just click on the DPD Local webpage link below and enter your tracking number within;
UK Next Working Day Delivery: DPD Local - Tracked (for all our high value orders)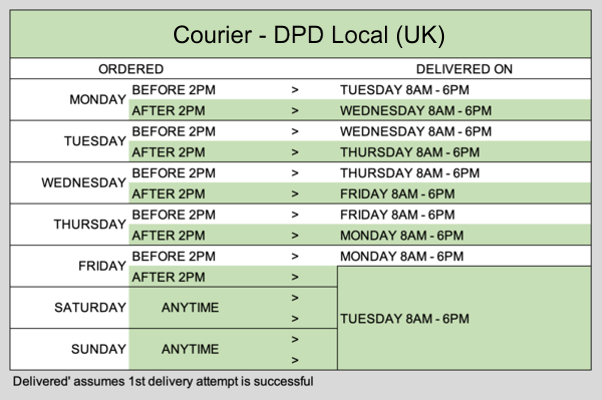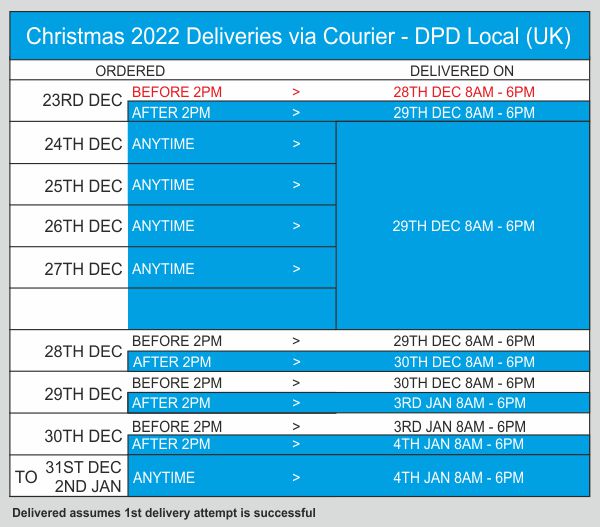 *****************************************
More Info can be found at DPD Local website;
Click here for DPD Delivery Schedule
If your order comes to us by 2pm (Mon-Fri) then it will be sent out the same day for next working day delivery within UK mainland (within 2 working days delivery for Northern Ireland), subject to processing & security checks. Orders after 2pm will sent out the next day (Mon-Fri)
If your order comes to us after 2pm on a FRIDAY, or on the weekend, then it will be sent out on the next working day (normally Monday), for next day delivery within the UK (within 2 working days delivery for Northern Ireland), subject to processing & security checks.
There is a Saturday Delivery Option available should you want your order on a Saturday. Please use this option before 2pm on a FRIDAY. There is a charge for this service, and available on the checkout page.
"ALL PRE-ORDER ITEMS WILL BE SENT ON APPROXIMATELY AS PER THE DATE STATED ON THE PRODUCTS PAGE" (or even sooner if they come into our warehouse earlier) ,subject to processing & security checks.
If you provide a mobile telephone number within your order you will receive a text message* the night before your order is delivered giving you the option to:
1. Select an alternative delivery date.
2. Leave with a neighbour
3. Collect the parcel from your local DPD Depot or nearest DPD Shop
4. NEVER INSTRUCT THE COURIER COMPANY TO LEAVE IN A "SAFE PLACE" AS BY DOING SO, IF THE PARCEL(S) ARE LOST OR STOLEN, THEN THE LIABILITY WOULD BE SHIFTED TO YOU FROM THE COURIER (see our Terms and Conditions Policy)
You'll also receive a text message on the delivery day morning giving you a 1 hour delivery window slot, so there's no need for you to wait in all day*.
*This applies to UK and NI orders only
*****************************************
Our Customer Service Team are available to answer your query seven days a week, where possible. We always aim to reply to your emails within 2 working hours during business opening times. If your message is urgent, then please call the Customer Service number 0121 454 7589 (during office hours) or you can use the online Chat service from our website, where one of the team will be able to handle your queries much faster. The chat service is normally available from 10am to 9pm, 7 days a week (limited availability during Weekends, Christmas and New Year holiday periods)
Christmas Customer Service Opening Hours.
Christmas Eve: Closed
Christmas Day: Closed
Boxing Day: Closed
New Year's Eve: Closed
New Year's Day: Closed
Normal Customer Service Opening Hours:
Monday - Friday: 10.00am - 5.00pm
Weekends: Closed
CURRENT COVID-19 = Office/Warehouse opening times have changed to as follows until further notice:
MONDAY to FRIDAY : 2pm to 4pm
Weekends: Closed
Messages left outside of these hours will be responded to, on the next working day.